Dublin firearms seizure 'saved lives'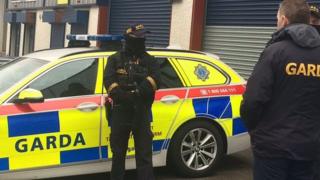 The seizure of a number of firearms in west Dublin disrupted an imminent attack and saved lives, Irish police have said.
At least 15 guns were recovered in a warehouse in the Greenogue industrial estate on Tuesday.
Among them were an assault rifle, a sub-machine gun, several handguns and semi-automatic pistols.
Three men in their 40s and 50s have been arrested.
Meanwhile, in a separate development, a man in his 20s has been arrested in connection with the murder of Eddie Hutch Snr in Dublin.
Hutch Snr, 59, was killed at his flat in Poplar Row, North Strand, in the north inner city on 8 February last year.
He was the uncle of Gary Hutch who was shot dead in Spain in September 2015.
He was also the brother of Gerry Hutch, a notorious criminal in Dublin in the late 1980s and 1990s, who was nicknamed the Monk.