Dancing With The Stars: Hughie Maughan in fake tan storm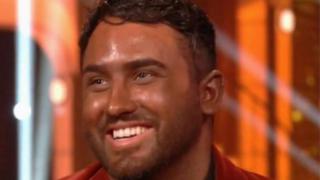 An Irish dance show contestant has sent viewers into a spin with the intensity of his fake tan.
Hughie Maughan's teak tone under the spotlight had viewers doing their own keyboard tap dance.
The Dublin man was appearing on Irish broadcaster RTÉ's Dancing With The Stars at the weekend.
Hughie told RTÉ's Ryan Tubridy he had laughed off the comments, claiming he had "thick elephant skin".
"The entire place was staring at me and the whole studio was looking at me, laughing and were gobsmacked," he added.
"I just found it funny. I'm one of those types of people, I'm bonkers when it comes to certain things.
"It's made people speak about me which is probably a good thing, I am on a TV show… Isn't that the point of television?"
Hughie's boyfriend Ryan Ruckledge was among those who contributed to the comments sparked by his partner's polished visage.
"He really shouldn't have taken tanning tips from me," he joked, before adding, "bad boyfriend advice hahah sorry".
The pair met on Channel 5's Big Brother programme last year.
Others compared Hughie to Ross Geller from the hit US TV show Friends when David Schwimmer's sitcom character has a spray tan fiasco.
Host Nicky Byrne said: "Hughie, you are trending on Twitter - we don't know why."