Serbian 'miracle man' survives -20C ordeal in well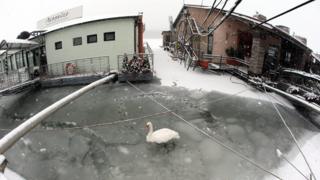 A Serbian man is being hailed a miracle survivor after he spent two-and-a-half days stuck down a well in temperatures well below freezing.
Jezdimir Milic left home on Friday morning to buy groceries ahead of Orthodox Christmas the next day, but failed to come home.
He was found some 52 hours later, on Sunday afternoon, trapped down a well while temperatures reached -20C (-4F).
Mr Milic is being treated for hypothermia and abrasions in hospital.
An extremely cold weather front has gripped much of Europe, with authorities declaring an emergency in parts of Serbia. Six people died of hypothermia in Poland on Monday, authorities say, and dozens more deaths are being blamed on the wintry conditions across Europe.
---
Europe freezes
Italy, Greece and Turkey saw some of the worst conditions on Tuesday with schools and transport services badly hit.
Two deaths were reported in Italy's far south-eastern region of Puglia, where 80% of schools were reported closed and isolated communities cut off.
In Greece, the migration minister's plane trip to Lesbos had to be diverted because of icy conditions on the ground. While the snow made for striking images of the Acropolis in Athens, most schools in the wider Attica region were shut.
After days of cancellations, flights in and out of airports in Istanbul were still badly affected amid reports of passengers sleeping on the floor waiting for services to resume.
---
Mr Milic was discovered by neighbour Goran Markovic, who says Mr Milic's poor sight probably explains how he did not see the five-metre-deep (16-foot) well and fell into it.
Mr Markovic said he discovered Mr Milic when he noticed a bag of groceries sitting by the well, in a wooded area close to their village of Smoljinac.
"Attracted by the unusual sight, I walked over to the bag in which there was a bottle of red wine, a few bottles of beer and some corn flour," Mr Markovic told news organisation RTS.
"At that moment I remembered that there was talk in the village about a disappeared person named Jezdimir. Then I heard some cries and looked into the well and I saw, at the bottom, someone sitting with their hands and feet close to their chest."
He then notified a local vet, who summoned police. The fire service eventually got Mr Milic out.
As well as hypothermia, he is being treated for bruises and abrasions consistent with a fall from height.
---
Have you been affected by the cold in Europe? How are you dealing with the weather? Let us know about your experiences. Email haveyoursay@bbc.co.uk with your stories.
Please include a contact number if you are willing to speak to a BBC journalist. You can also contact us in the following ways:
·WhatsApp: +44 7525 900971
·Tweet: @BBC_HaveYourSay
·Send an SMS or MMS to 61124