Apollo House: Occupiers of government building ordered to leave in January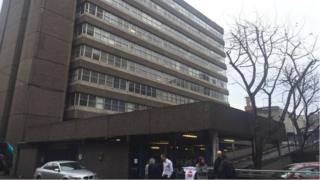 The High Court has ordered those occupying a vacant office building in Dublin City Centre to leave the premises on 11 January.
Apollo House, a former government office block, is empty but there are plans to demolish and redevelop it.
Last week, a group of housing activists entered the premises in order to provide shelter for the homeless.
Receivers then began legal action to end the "illegal occupation".
They went to the High Court in Dublin on Tuesday to seek injunctions against the campaigners.
On Wednesday, a judge ruled that those occupying the building could stay until January on condition that no more than 40 people use the facilities, that the receivers would be entitled to access and supervise the property at all times, and that the defendants would co-operate fully with the receivers.
Mr Justice Paul Gilligan also said he wanted those who reconnected the electricity in the building to fully co-operate with anyone appointed by the receivers.
'No exceptional circumstances'
He said the defendants may have been well-intentioned, but the court had to apply the law.
He added that the occupiers were trespassing and they had not shown that the circumstances were exceptional enough to persuade him that he should not grant the injunction.
His order will not come into effect until noon on 11 January if they co-operate with the receivers and allow them access to the building.
Irish celebrities have lent support to the Home Sweet Home group that turned the building into a shelter.
The campaign group includes representatives of the Irish housing network and trade unions.
Well-known Irish musicians, including Oscar-winner Glen Hansard, Dublin band Kodaline and Hozier, led campaigners in song outside the Dublin building on Tuesday.
Their barrister told the court there were serious health and safety concerns as the building was not suitable for residential use and currently has no fire insurance cover.