Berlin attack: German police unsure suspect was in lorry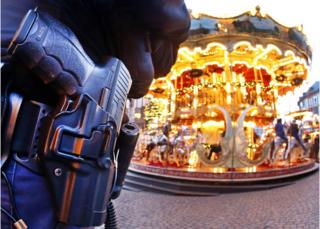 The German authorities say they cannot be sure if a man in custody was behind Monday's lorry attack on a Berlin Christmas market that killed 12 people.
"We have to entertain the theory that the detainee might possibly not have been the perpetrator," federal prosecutor Peter Frank told reporters.
The style of attack and the target suggested Islamic extremism, he said.
A vigil has been held at the Kaiser Wilhelm Memorial Church, right next to the scene of the attack.
The man detained, who has denied involvement, arrived in Germany from Pakistan at the end of last year. He was captured in a park after reportedly fleeing the scene.
Before attending the vigil, German Chancellor Angela Merkel vowed to punish those responsible for the attack "as harshly as the law requires".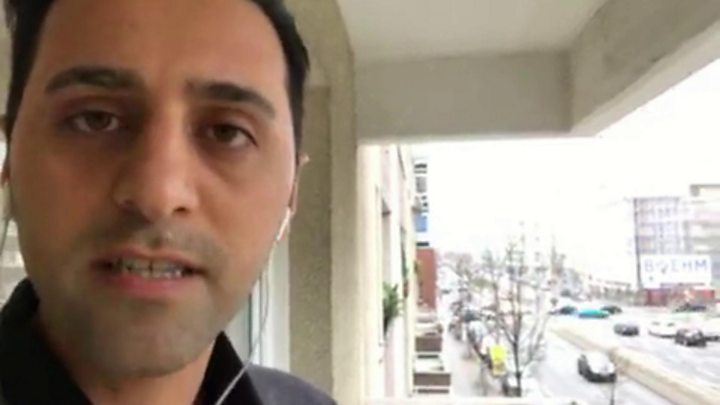 Her open-door policy on migration, which saw 890,000 asylum seekers arrive in Germany last year, has divided the country, with critics calling it a security threat.
US President Barack Obama has called Mrs Merkel to offer his condolences and American assistance in defeating "terrorism in all of its forms".
At about 20:14 local time (19:14 GMT) on Monday, the lorry ploughed through the popular market at Breitscheidplatz, near west Berlin's main shopping street, the Kurfuerstendamm.
Along with the dead, 49 people were injured, 14 of them seriously. As of Tuesday afternoon, 24 of the injured had been released from hospital.
The interior ministry said Christmas markets in Berlin would remain closed on Tuesday but other markets outside of the capital would operate as normal.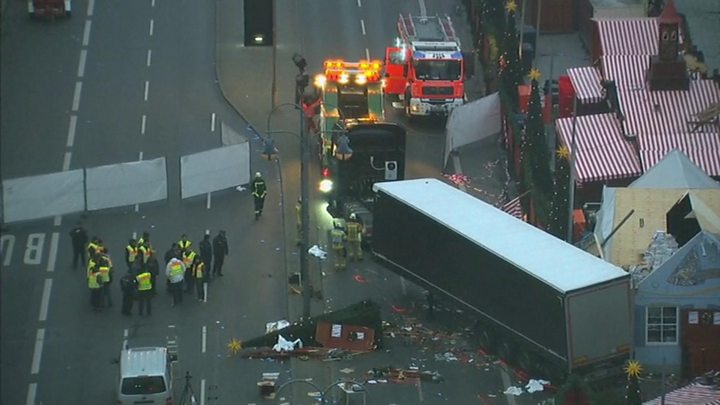 What do we know about the suspect?
German media have identified him as Naved B, 23, who was reportedly known to police for minor crimes, but not terrorist links.
He arrived in Germany on 31 December of last year and his asylum application was still in progress.
He was seized near the Victory Column monument, 2km (1.2 miles) from the lorry attack scene, after fleeing towards the Tiergarten park. A bystander had been tracking the driver of the lorry after seeing him jump out of the cabin, and had led police to the suspect.
Special forces on Tuesday stormed a hangar at Berlin's defunct Tempelhof airport, where they believed he had been living in a shelter with other migrants.
Police are examining a mobile phone they seized during the search there.
Who was the first known victim?
The usual driver of the lorry, Polish citizen Lukasz Urban, was found dead on the passenger seat of the lorry, reportedly with gunshot and stab wounds to his body. No gun was recovered.
Mr Urban, 37, had been working for his cousin Ariel Zurawski, the Polish owner of the lorry, who said he had last been in contact at 16:00 (15:00 GMT) on Monday.
Lukasz Wasik, the manager of the transport company, told Polish TV Mr Urban had been a "good, quiet and honest person'' devoted to his work.
"I believe he would not give up the vehicle and would defend it to the end if were attacked," Mr Wasik said.
How has Germany responded to the attack?
Chancellor Merkel expressed her concern that the attacker might turn out to be an asylum seeker.
"I know that it would be particularly difficult for us all to bear if it turned out that the person who committed this act was someone who sought protection and asylum in Germany," she said.
The co-leader of Germany's anti-immigration AfD party, Frauke Petry, blamed Mrs Merkel's liberal policy on migrants.
"The milieu in which such acts can flourish has been negligently and systematically imported over the past year and a half," she said.
Horst Seehofer, the leader of Mrs Merkel's sister party in Bavaria, urged the chancellor "to rethink our immigration and security policy and to change it".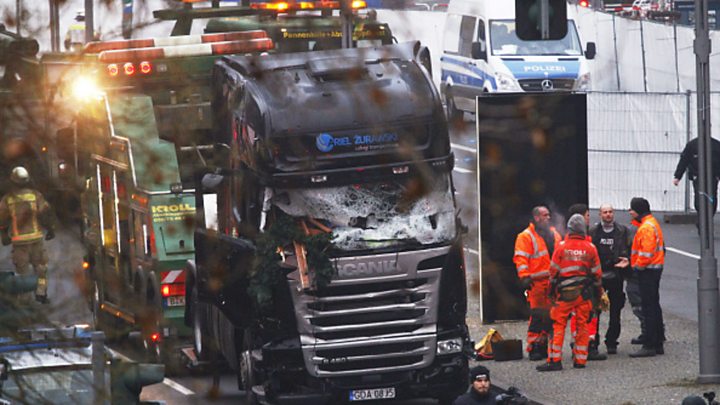 Your questions on security in public spaces
Is this attack unprecedented?
Monday's incident mirrored the lorry attack on Bastille Day crowds in the French city of Nice on 14 July, claimed by so-called Islamic State (IS).
Both IS and al-Qaeda have urged their followers to use vehicles as a means to attack crowds.
At the end of 2014, a van was driven into pedestrians at a Christmas market in the French city of Nantes, injuring 10 people.
Last week, German prosecutors said a 12-year-old German-Iraqi boy was in custody on suspicion of plotting to blow up a Christmas market in the western town of Ludwigshafen.