French footballer Conte held for 'assault' in Reims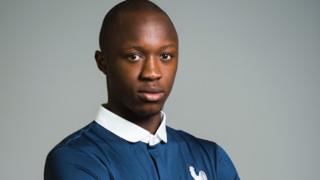 French police have detained Reims footballer Antoine Conte, suspected of having gravely injured a young man in an incident in the north-eastern city.
The 19-year-old victim is in hospital, having suffered a brain haemorrhage, French Europe 1 radio says.
Reports say that after Conte allegedly became violent towards his partner at his home, she ran out into the street seeking help.
A male passer-by tried to intervene and was reportedly hit with a baseball bat.
On its website Stade de Reims football club said it "acknowledges with shock the deplorably violent acts attributed to Antoine Conte", referring to the reported attack.
It said the club's thoughts "are with the player's partner and the young individual who was seriously injured", and the club "condemns such actions with the utmost firmness".
The club said Conte "must answer for his actions" which, if proven, would bring "exemplary punishment" by the club.
Stade de Reims plays in the second division, called League 2 in France.
Conte, 22, has family roots in Guinea and began his French professional career with Paris Saint-Germain (PSG). As a junior he played several times for under-21 French national teams.