Brian Stack killing: Paul Quinn's family give support to prison officer's family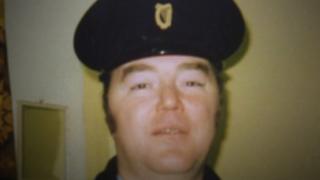 A family who believe their son was killed by the IRA have given their support to the family of a prison officer murdered in the Republic of Ireland.
Prison officer Brian Stack was shot as he left a boxing match in 1983.
Paul Quinn, 21, was beaten to death in a barn in Oram, County Monaghan, in October 2007.
Paul's mother, Breege, called on Sinn Féin President Gerry Adams to provide information on both murders.
She said she believes Mr Adams and party colleague, Conor Murphy know who killed her son nine years ago.
"We just want truth and justice and we want Gerry Adams to do it truthfully to help us to bring those to justice and I believe he can and I believe Conor Murphy can too," she said.
In a tweet, Mr Adams, said he had no information relating to Paul Quinn's death and said his sympathies were with the family.
Conor Murphy said the allegations were without any foundation and that he had always said that the family deserved justice.
On Thursday, Austin Stack, Mr Stack's son, confronted Gerry Adams and accused him of lying in the Dail.
Earlier this week, two Sinn Féin TDs denied any involvement in Mr Stack's murder.
Dessie Ellis and Martin Ferris shouted their denials in the Dail shortly after their party leader Gerry Adams made a statement on his knowledge of the killing.
In his statement, Mr Adams said that during Ireland's general election campaign in February, he had emailed Irish police commissioner Noírín O'Sullivan a list of four republicans who may have been involved.
The Sinn Féin leader said he had been given the names by Austin Stack, himself a senior prison officer and son of Brian Stack.
Mr Adams said Austin Stack told him the names were given to him (Mr Stack) by journalists and Garda sources.
But Mr Stack, who with his brother, Oliver, and Mr Adams met a senior republican with knowledge of his father's murder in 2013 in Northern Ireland, denies handing over any names.
Mr Ellis said he was in prison at the time.
Both men were responding to comments made by Fine Gael TD Alan Farrell.
Mr Stack, chief prison officer at the high-security Portlaoise Prison, was shot in the back of the neck as he left a boxing match in 1983.
He was left paralysed and died 18 months later.