Syria war: Russia awards medals to dead and wounded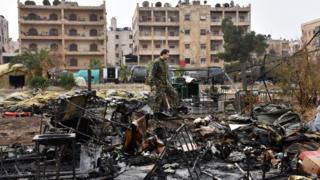 Five Russian soldiers have received the "Order of Courage" from President Vladimir Putin, including a colonel and two women sergeants killed by Syrian rebel shelling of Aleppo.
The women were serving as medics at a field hospital in western Aleppo. A mortar struck the hospital on Monday.
A Russian paediatrician seriously wounded in that attack also received the medal.
A fifth Order of Courage went to a Russian colonel wounded elsewhere.
Russia is helping Syrian state forces.
The Kremlin named the five decorated with the Order of Courage for their service in Syria as:
Col Ruslan Galitsky, a tank specialist advising President Bashar al-Assad's forces, killed by rebel mortar fire in Aleppo
Sgt Nadezhda Durachenko killed in the field hospital attack
Sgt Galina Mikhailova killed in the same attack
Prof Vadim Arsentyev, paediatrician wounded in the same attack
Col Eduard Skvortsov, wounded in a separate incident
Russia's Tass news agency lists Russia's combat losses so far in the Syria conflict as: 21 military personnel, three helicopters and an Su-24 bomber.
A special forces officer - Senior Lt Alexander Prokhorenko - "died heroically" in March near Palmyra, the Russian government said. He was decorated as a national hero for having called in an air strike against so-called Islamic State (IS) militants, who had surrounded him.
Russia's "anti-terrorism" operation in support of President Bashar al-Assad in Syria began on 30 September 2015.
Russia has mostly carried out intensive air strikes in Syria - including with cruise missiles fired from warships. But Russian special forces and military advisers are also helping Syrian government troops on the ground.
According to a Reuters investigation, Russian private contractors or mercenaries are also fighting in Syria, in support of the official military contingent.