'Real IRA member ' shot dead in Blackpool area of Cork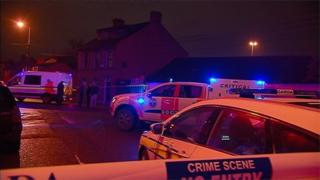 A 37-year-old man shot dead in Cork is reported to have been a leading member of the Real IRA.
He has been named locally as Aidan O'Driscoll, from Glenheights Park, Ballyvolane.
The shooting happened just before 17:00 local time on Old Commons Road in the Blackpool area of the city.
Two men got out of a car, approached the victim and shot him once. They then fired at least two more shots as Mr O'Driscoll lay on the ground.
Two partially-burned out cars were found by police following the shooting. One was found in Blackpool and one at Killeens in County Cork.
RTÉ has reported that in 2005 he was convicted of being a member of the Real IRA, but this conviction was later overturned in the Court of Criminal Appeal.
Dissident republican activity is believed to be one of the areas that will be examined in the police investigation.
Paul Reynolds, RTÉ's crime correspondent, told Good Morning Ulster that Mr O'Driscoll had been close to Alan Ryan, a Real IRA member shot dead in Dublin in 2013.
He said that Mr O'Driscoll was expelled from the Real IRA after a falling out between the organisation's Northern Ireland and Republic of Ireland factions, and that he was injured in a punishment shooting in 2013.