Donal Billings: Man who made bomb-threats during Queen visit denied bail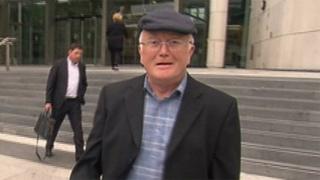 A man who made bomb threats during a visit by the Queen to the Republic of Ireland has been denied bail.
Gardaí (Irish police) received a call from Donal Billings in May 2011 saying there was a bomb on a bus in Maynooth.
A bag was found on the Dublin-bound bus holding a bomb, gunpowder, petrol, a timing-power unit, battery and a fuse.
Billings, of St Bridget's Court, Drumlish, County Longford, made several more threats during the Queen's visit, which were taken "seriously" by police.
'Queen of blood'
One call claimed there were two mortars in Dublin Castle set to go off during the state banquet, Irish broadcaster RTÉ reported.
Threats were also made that there were bombs on another bus and at the Sinn Féin headquarters in Dublin, but none were found.
Two days later, he called again and said that two mortars had been left in Dublin Castle, set for 20:00 local time, during the state banquet for the Queen.
"I am a member of the Republican Brotherhood Squad A," he said.
"This is for the Queen of blood, war in Iraq."
Two days later, a third call was made, warning of two more bombs in the toilets of Cork Airport, but again nothing was found.
Bomb threats
Billings was identified as the caller through phone records, notes, a SIM card and a mobile phone. He was put under surveillance and arrested that day at a supermarket in Longford.
He told gardaí he had only just found the SIM card in the car park.
Billings was found guilty in October of possessing explosives and four counts of making the bomb threats.
He has previous convictions for possessing explosives in Northern Ireland in 1973, for which he was sentenced to eight years in prison.
On Wednesday, he asked to be released on bail until after Christmas to put his affairs in order, but the court refused.
He is due to be sentenced on 15 December.