Welsh UKIP politician wants Ireland to pay for road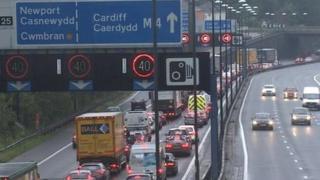 A UKIP politician has asked if Ireland could help pay for a motorway in Wales using EU funds.
David Rowlands asked the Welsh first minister to "explore the possibility" of the M4 improvement scheme being part-funded by the Irish government.
The assembly member for South Wales East said it was a serious request as "three quarters of all Irish exports to the EU and UK pass along that road".
His request was met with heckles and hilarity in the assembly.
First Minister Carwyn Jones said it was for the Welsh government to maintain the major roads and motorways of Wales.
He also said Mr Rowlands could not expect another EU member state "to make up the shortfall that he himself campaigned to engineer in the first place".
Undeterred, the UKIP assembly member said Ireland would be able to access cash from the Trans-European highways fund for the M4 relief road - a £1.1bn six-lane motorway, south of Newport, to relieve congestion.
The UK Independence Party fought for the UK to leave the EU during June's referendum. Leave won by 52% to 48%.