Mystery man returns bag with 3,000 euros lost in Donegal supermarket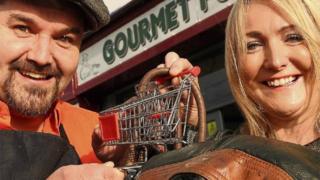 A Donegal couple are searching for a Good Samaritan who returned a lost handbag containing 3,000 euros (£2581).
Malachy and Julie Canning told the Donegal Democrat the unidentified man deserves to be recognised for his "honourable" act.
The couple, who live in Letterkenny, returned home from a shopping trip when they realised Julie's handbag had been left behind in a supermarket trolley.
It contained 3,000 euros to pay their son's college accommodation fees.
Malachy said his wife had immediately returned to the supermarket. She was told by staff that a man, who did not leave a name or contact details, had handed it in.
They also said he was aware it contained the cash.
'Turkey and ham'
Malachy told the paper: " We would just love to get in touch with him and thank him.
"There is a heap of people who would have done it, but there is also a big percentage of people out there that also wouldn't have done it.
"He deserves a bit of recognition and definitely deserves his turkey and ham, and dessert for Christmas."
He said had the money not been returned there could have been serious implications for the couple's business.
"We probably would have had to try and scrape the money together for the accommodation, we would have had to get it somewhere, but in the mouth of Christmas and stock to be bought for the shop, it would have been tough.
"I don't think we could have crawled back from that and I don't think we could have been able to get over the loss".