European press: Theresa May has 'no plan' on Brexit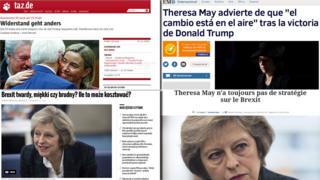 Criticism of Theresa May's handling of Brexit is mounting in the European press, with new impetus from a leaked memorandum suggesting the UK government lacks the manpower to cope with the process.
In Germany's Die Welt, London correspondent Thomas Kielinger is sceptical about the government's robust denial of the report.
"They say it has nothing to do with them. Really? The memorandum only makes clear what the birds have been singing from the rooftops for a long time," he writes.
He adds that top civil servants should have a "firm word" to combat Mrs May's "fatal habit of trying to sort everything out herself without any sense of priority".
The French business paper Les Echos agrees that Mrs May's "refusal to delegate" is as big a problem as alleged cabinet divisions, making it "difficult to grapple with the titanic task of Brexit".
Enrico Franceschini of Italy's La Repubblica, thinks "Brexit will collide with a wall built by the government", while the economics editor of Germany's Sueddeutsche Zeitung, Marc Beise, complains that Britain appears "completely unprepared", and must "either move ahead quickly with Brexit or reconsider its position".
'Opening a door'
Die Welt's business correspondent Nikolaus Doll is not alone in seeing in recent remarks by German Chancellor Angela Merkel signs she is looking for compromise on freedom of labour movement.
While affirming her commitment to the principle in a speech on Tuesday, she added that there should be a debate about the speed with which migrants can claim benefits - a matter that "not just the British criticise", according to Doll.
Les Echos agrees that Mrs Merkel "opened a door" over movement of labour, in an "overture to Britain".
In Poland meanwhile, Tomasz Bielecki, Brussels correspondent of Gazeta Wyborcza, reports that Polish diplomats are worried about the "hole" Britain's departure could leave in the EU budget, of which Poland is the "major beneficiary".
"This is crucial for us," he writes, as it will require "renegotiations that are less and less appealing to many countries, including those appalled at our attitude towards refugees".
'Wooing Trump'
Commentators are intrigued by Theresa May's policy towards Donald Trump, with most seeing a possible transatlantic alliance that may not be to the EU's benefit.
The London correspondent of France's Le Monde, Philippe Bernard, thinks Theresa May may have a point in "counting on Donald Trump to help her with Brexit", and that London understandably sees a "parallel between Brexit and Mr Trump's surprise victory".
Alessandra Rizzo of Italy's La Stampa also thinks Mrs May's "dream" of Britain becoming a world trade leader in concert with "old allies" is bound to try to enlist Mr Trump.
Carlos Fresneda of Spain's El Mundo thinks Mrs May "wasted no time" in echoing Mr Trump's populist attacks on globalisation and large corporations in a recent speech to business leaders.
Berlin's left-wing Tageszeitung complains that there appears to be no will in the EU to "put Britain in its place" and stop it "undermining EU attempts to present a united front against Donald Trump".
"The EU is not opposing Trump. Rather he and his friends in London are steering us," it says .
'Worst time for City'
Eric Albert, writing from London for Le Monde, is not so sure. He says London fears Mr Trump might deregulate US financial markets at the "worst possible time for a City already plagued by Brexit", with many institutions preparing to move some activities to elsewhere in the EU or Wall Street.
The Frankfurter Allgemeine Zeitung highlights the German Finance Ministry's statement about the growing number of London companies' inquiries about how to move to Frankfurt, adding that local politicians there are actively courting such interest.
But a commentary by the paper's business reporter, Tim Kanning, considers Frankfurt's efforts lacklustre, adding that while banks may be "sitting on packed bags", their destination may not be Germany.
BBC Monitoring reports and analyses news from TV, radio, web and print media around the world. You can follow BBC Monitoring on Twitter and Facebook.