Anthony Stokes 'assaulted Dublin Elvis impersonator'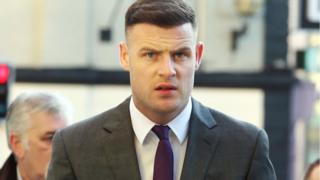 Republic of Ireland footballer Anthony Stokes has pleaded guilty to assaulting an Elvis Presley impersonator outside a nightclub in Dublin.
The striker, who plays for Blackburn Rovers, admitted a charge of assault, causing harm to Anthony Bradley.
The incident took place outside Buck Whaleys nightclub on 8 June 2013.
Stokes, 28, of Claremont Terrace, Glasgow, will be sentenced on 20 December.
The case had been listed to go to trial on 22 November but Stokes pleaded guilty at an arraignment hearing on Thursday.
The former Celtic player, who has nine caps for the Republic of Ireland, was released on continuing bail.
Stokes began his career at Arsenal and also played for Sunderland and Hibernian.