Europe's media: US election 'new shock after Brexit'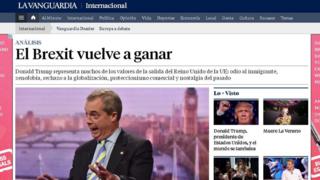 Donald Trump's surprise election as US president has largely overshadowed Brexit in the European press this week, although several papers still found time to issue dire warnings about the impact of the UK's departure from the EU.
Although many articles on Mr Trump's victory link it with Brexit in passing, most press commentators avoid drawing too many parallels.
An article in France's Le Monde said the US election result is a "new shock for Brussels after Brexit".
German paper Die Tageszeitung US election live page initially sported the headline "Brexit 2.0", but this was later changed to "Victory of the horror clown".
Pascal Riche, in France's Nouvel Observateur, writes that the two phenomena share the same "rejection of a failed elite".
"Like the British with Brexit, Americans have above all voted against a system that is supposed to represent them, but which has piled up failure upon failure," he says.
In Spain's La Vanguardia, Rafael Ramos argues that Donald Trump and Brexit share many "values": "Hatred for immigrants, xenophobia, rejection of globalisation, protectionism and nostalgia."
'Parasitic'
Most commentators commenting on Brexit focus on the damage they believe it is likely to do to the EU or Britain or both.
In France's Le Point, London-based commentator Mathieu Laine argues that Prime Minister Theresa May is risking Britain's economic model by letting "politics take precedence over economics" under pressure from hard-line anti-immigration Brexiteers.
"Margaret Thatcher would be turning in her grave," he says. "It is not possible to preserve a powerful economy while satisfying those who replenish the ranks of UKIP by spitting at the Polish plumber and lock themselves away in nostalgia for a kingdom reserved for 'the Brits'."
Germany's Die Tageszeitung agrees, expressing amazement at what it calls the British government's "naive" belief that the UK can remain the "EU's tax haven" after Brexit.
"[Britain] is parasitic and lives by redirecting the flow of funds from Europe to London," business editor Ulrike Herrmann says, adding that few British calling for "hard Brexit" appear to understand their country's fundamental economic "weakness": "It will be hard. For the British."
In France's Le Monde, editor Arnaud Leparmentier compares Brexit to a "ruinous and interminable divorce" in which both sides will end up paying more.
Elsewhere in the same paper, academic Philippe Gillet looks at the impact of Brexit on the sciences, and calls on the EU not to let British researchers and students be excluded from European projects, along with the Swiss.
"The Europe of knowledge and innovation will be poorer, less competitive and less attractive without Switzerland and the United Kingdom," he argues.
In Portugal's Diario de Noticias, Ferreira Fernandes picks up the story about Toblerone being slimmed down for the British market.
"Great Britain has also Brexited the Alps," he says, despite the manufacturer's assurance that Brexit is not the main cause of the redesign. "People on Facebook are lamenting that the chocolate has been diminished, just like the country."
BBC Monitoring reports and analyses news from TV, radio, web and print media around the world. You can follow BBC Monitoring on Twitter and Facebook.