Enda Kenny gets St Patrick's Day invitation from Donald Trump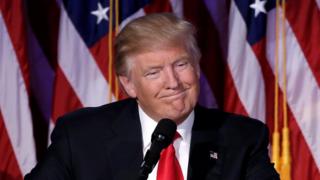 Donald Trump has invited Taoiseach (prime minister) Enda Kenny to continue the tradition of visiting the White House on St Patrick's Day.
An Irish government statement said the US President-elect held a 10-minute phone conversation with Mr Kenny.
The taoiseach congratulated Mr Trump on his election victory.
The statement said both men were committed to working together to the mutual benefit of Ireland and the US.
On Tuesday, Mr Kenny said "racist and dangerous" remarks made by Mr Trump were made in the "heat of battle".
"I recall a comment made in the Dail (Irish parliament), when asked if I would agree that comments made in the heat of battle, in a primary election, by the president-elect, before he was nominated formally as a candidate, were racist and dangerous," the taoiseach said.
"And I said 'yes', in respect of those comments.
"I listened very carefully to the president-elect this morning, and the first thing he said was it was now time to heal wounds, to build partnerships, to work constructively with people of the US and every other country and people who want to work with him.
"I am very happy that the (Irish) government will work with the new administration when appointed by the president-elect."
Earlier, Mr Kenny issued a statement congratulating Mr Trump on his victory.
He also congratulated new vice president-elect, Mike Pence, who, he said, "is a proud Irish-American who spent many summers in Ireland as a child".
Meanwhile, former taoiseach Bertie Ahern said Irish leaders "need to have a bit of a love-in with Mr Trump's people very quickly".
"To the best of my knowledge, and I still visit the US a bit, we don't have any connections with his team," he said.
"When he was going to come here some months ago, when he was in Scotland during the campaign on his business interests, as far as I could read between the lines, it was probably made clear to him he would get a hostile welcome here, so that was dropped off the itinerary."