German prosecutors arrest Syrian man over 'Islamic State ties'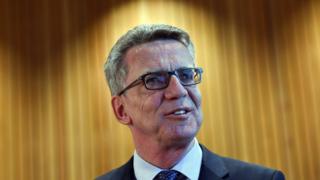 German prosecutors say they have arrested a Syrian man in Berlin who they suspect of belonging to the so-called Islamic State (IS) group.
Prosecutors identified the man as Ashraf Al-T, 27, and said they believed he had received instructions from IS to carry out an attack in Germany.
The man had been living in Germany since 2015, they said.
Interior Minister Thomas de Maiziere said he had been under surveillance for an unspecified period of time.
"It is very good this person has been taken out of circulation,'' he said.
Security services have been on high alert since October when they arrested a Syrian refugee with several hundred grams of explosive material in his residence who had suspected ties to IS.
The man later committed suicide in a Leipzig jail.
In July, two attacks took place. An axe attack on a train in Wuerzburg by a teenage Afghan refugee was claimed by IS, while a rejected Syrian asylum seeker who blew himself up in Ansbach had pledged allegiance to the group.