OCI Olympic ticket review halted after Hickey legal threat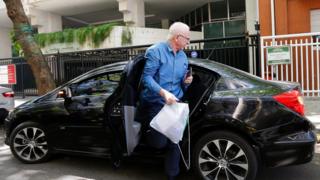 The Olympic Council of Ireland (OCI) has postponed a review of its handling of ticketing arrangements after Pat Hickey threatened legal action.
Mr Hickey temporarily stood aside as OCI president after his dramatic arrest in a Rio hotel room on 17 August.
The OCI said the review had been postponed pending the outcome of criminal proceedings against Mr Hickey.
He had threatened to seek an injunction preventing the review's completion, said the OCI.
The OCI executive committee said it had decided "not to incur the very significant additional cost" of defending any legal proceedings.
The independent review is being carried out by Grant Thornton.
Ten defendants
The OCI restated its commitment to continuing full co-operation with Justice Carroll Moran's non-statutory inquiry.
It is to hold an extraordinary general meeting in January 2017 to elect a new executive committee following the resignation of a number of members, including John Delaney, the head of the Football Association of Ireland..
It is understood a separate report on corporate governance arrangements at the OCI, carried out by Deloitte, will be issued to OCI member federations next week.
Mr Hickey is one of 10 defendants facing a number of charges in Brazil as part of an investigation into an alleged ticketing scam. He denies the charges.
It is expected that it could take more than a year for the cases to come to court.