EU commissioner Oettinger apologises for China speech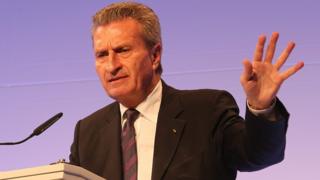 The EU's Digital Economy Commissioner Guenther Oettinger has formally apologised for making derogatory remarks about Chinese officials.
"I would like to apologise for any remark that was not as respectful as it should have been," he said on Thursday.
In a speech to German business leaders he had spoken of Chinese officials having "hair combed... with black shoe polish" and called them "slitty-eyed".
China said Mr Oettinger had revealed a "baffling sense of superiority".
The German official has been named as the next EU budget commissioner, replacing Bulgaria's Kristalina Georgieva. She resigned last month, to take up the post of World Bank CEO.
She was also a Commission vice-president - and it is not clear if Mr Oettinger will get the European Parliament's approval for that role.
Political opponents called his Hamburg speech "racist" and said he was unfit to hold such a senior post in the EU.
'Wake-up call'
"I had time to reflect on my speech, and I can now see that the words I used have created bad feelings and may even have hurt people. This was not my intention," he said in his apology.
He said he had sought to speak frankly, "to give a wake-up call to the German audience".
Among the issues he touched on was the EU's last-minute wrangling over the huge Ceta free trade deal with Canada, which involved tense negotiations with Belgium's Wallonia region.
Walloon objections were finally addressed and Ceta - the Comprehensive Economic and Trade Agreement - was signed in Brussels on Sunday.
Belgium's Le Soir newspaper said Mr Oettinger described Wallonia as "a micro-region run by Communists that blocks the whole of Europe".
In his apology on Thursday, the commissioner said he had been misquoted on that point. He went on to say Wallonia "is not only historically an important European region, but actively contributes to the cultural and political diversity of Europe".
Dismissive remarks he made about women and gay marriage in his Hamburg speech also caused offence, with some calling it "homophobic".
He scorned Germany's political agenda, saying it was all about "mothers' pensions, minimum pensions, pensions at 63, welfare payments... soon it'll be compulsory gay marriages".
On Twitter, after his apologetic statement, Mr Oettinger said "since decades I am a liberal" and "I have always supported gay partnerships, legally and with legislative processes".