Spanish Civil War: Majorca digs for lost victims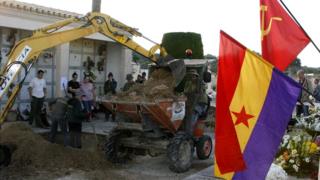 An excavation has begun in Majorca for the remains of Spanish Civil War prisoners shot by the Nationalists.
About 120 bodies were dumped in a mass grave in Porreres, a town in central Majorca. The left-wing Republican prisoners came from 30 different areas.
The relatives' association Memoria de Mallorca is managing the dig. Most of the prisoners were lined up against a church wall and shot in 1936-1939.
Across Spain tens of thousands of Civil War victims remain in unmarked graves.
Forensic scientists have the difficult task of identifying the victims, whose names were not recorded by Gen Francisco Franco's fascist forces.
Memoria de Mallorca believes the Porreres site to be the biggest mass grave in the Balearic Islands dating from the war.
In recent years Spain has launched excavations at other mass graves from the war period, but the exhumations remain controversial.
An Amnesty Law adopted in 1977, two years after Franco's death, prevents any criminal investigation into the Franco years.
In Majorca alone there are more than 2,000 victims' remains yet to be dug up and identified, Memoria de Mallorca says.
The expert leading the Porreres exhumation, Francisco Etxeberria, expects the dig to last about a month. Quoted by daily newspaper El Pais, he said 500 mass graves had been opened in Spain so far and more than 800 skeletons recovered.
"We've worked in pits 50m (160ft) deep, with rain, hail and mud, so I don't think this excavation will be more difficult," Mr Etxeberria said.