Halloween 'jihadist' arrested in Toulouse, France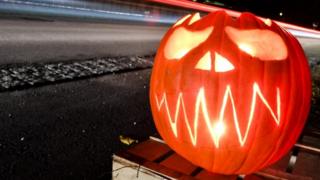 Police in south-western France have arrested a man for celebrating Halloween by brandishing a fake rifle in the centre of Toulouse.
Eyewitnesses told police that the 26-year-old roamed the streets dressed in black and khaki, and shouting "Allahu Akbar" - "God is great" in Arabic.
When tackled by police, the man appeared not to understand what the problem was, local media say.
"You can do anything on Halloween," he allegedly told officers.
Despite the man's insistence that he had no "bad intentions", he was held in custody for an extended period for threats with a firearm and glorifying terrorism, La Depeche newspaper reported.
Toulouse was the home of France's first home-grown Islamic jihadist Mohamed Merah. He killed seven people - including three Jewish children - during a shooting spree in 2012 before being shot dead by police.
The official Twitter account of the national police had earlier asked partygoers to adopt "appropriate" costumes, without fake firearms.
They also provided visual guidelines to help with costume selection (in French).