John Kerry: 'Brexit must not impact push for peace in NI'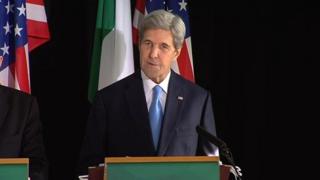 US Secretary John Kerry has insisted it is "critical" that Brexit does not impact the push for peace in Northern Ireland.
Mr Kerry was speaking at a meeting with the Republic's Foreign Affairs Minister Charlie Flanagan.
He was in Ireland to receive the Tipperary International Peace Award for 2015.
Previous winners include Nobel peace prize winners Nelson Mandela and Malala Yousafzai.
The organisers of the event said Mr Kerry was selected for his efforts to end conflicts in "a number of countries" and negotiations for the surrender of Syria's declared chemical weapons.
Irish anti-war groups strongly criticised his selection.
Mr Kerry said: "I am truly honoured to be listed among the remarkable past recipients who have contributed so much to the cause of creating a more peaceful world."
The two ministers and US special envoy to Northern Ireland, Senator Gary Hart, attended the talks.
During his visit to Ireland, Mr Kerry was asked about the US presidential election. He said he had not been contacted by the FBI about new investigative steps being taken related to Hillary Clinton's use of a private email server.
"No, I haven't been notified of anything, no, I haven't been requested of anything, no, I'm not aware of the department being requested, and I have no further comment to make," he said.
"As an American citizen and former nominee of the party, there is a lot I'd like to say about what is going on, but I can't and I am just going to remain out of this."