European papers see mixed messages from UK on Brexit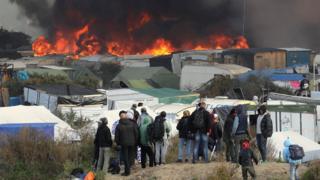 European newspapers continue to highlight what they see as contradictions in Britain's official stance on its exit from the European Union, in particular its desire to limit EU migration while retaining extensive access to the single market.
The dismantling of the Jungle migrant camp in Calais leads some French papers to reflect on how the Brexit debate obliges other European countries to explain how they intend to cope with the movement of people into and within the European Union.
'Export Calais to Dover'
The dismantling of the Jungle camp prompted many French politicians to repeat calls for France to reconsider the Touquet agreement that allows Britain to deal with asylum seekers in Calais rather than the UK, and several papers took up the refrain.
Typical of most right-leaning sentiment was Jean-Pierre Denis in the weekly paper La Vie, who asks whether France can renounce the agreement and "export Calais to Dover", as "Britain doesn't want to stand in solidarity with other Europeans".
But centre-left Le Monde sees a broader picture, saying the Jungle camp could look like the "future for Europe" unless EU leaders act now to "manage and integrate the great flow of migrants that will mark this century".
Le Monde says individual member-states must clarify "what is and is not possible in terms of immigration". And France itself must "grasp the nettle of welfare reform".
'The anti-Thatcher'
Several papers contrast Prime Minister Theresa May's gloomy forecast for the British economy, as leaked to The Guardian, with her optimistic public comments about post-Brexit prospects.
Marcus Theurer, in London for the Frankfurter Allgemeine Zeitung, says this again shows that the free movement of people is a "fundamental principle" for Europe, and a 'hard Brexit' without easy access to the single market would "encourage banks in particular to move jobs to Europe".
He sees more contradictions in Mrs May's tough public stance.
Rather than a second Margaret Thatcher, he sees as an "anti-Thatcher" who promises to reverse 30 years of the free market with a "return to a strong interventionist state that directs the economy".
Mr Theurer warns that calling globalised players "citizens of nowhere" will be a "stumbling block" to British economic success.
Tomasz Bielecki, the Brussels correspondent of Poland's Gazeta Wyborcza, also criticizes Mrs May's approach.
He accuses her of using the Brussels summit to "push member states into pre-negotiations before she has triggered Article 50" - the clause that signals the formal start of Britain's departure from the European Union - in an attempt to "play individual countries off one against the other".
Unnamed EU diplomats told him that any such gambit was "bound to fail".
Daniel Broessler of Munich's Sueddeutsche Zeitung was representative of commentators in seeing a "sceptical reception" for Mrs May's pitch for a positive role for Britain in Europe at the Brussels summit.
The problem again comes down to "Britain's desire to limit the migration of EU citizens, which the European Union sees as incompatible with being part of the single market", he writes.
'Brexit flight'
France's conservative Le Figaro is one of many papers to say banks are "getting ready to flee Britain", following an Observer story that banks are considering moving some of their operations out of the UK in early 2017 for "fear of Brexit".
But it also reports an upbeat assessment of British growth prospects from Eurotunnel, which says the weak pound has helped the company clear some of its debts.
In contrast, the Rheinische Post warns that Brexit could cut German economic growth by a quarter of a percentage point in 2017.
Quoting the Cologne Institute for Economic Research, it says exports - a key pillar of the German economy - could fall by nine percent because of the weakening value of the pound and declining British growth, while imports could see a 3.5% drop.
BBC Monitoring reports and analyses news from TV, radio, web and print media around the world. You can follow BBC Monitoring on Twitter and Facebook.