Tayto Park 'House of Horrors' witness thought collapse 'was act'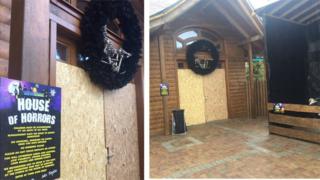 A Belfast man who watched a staircase collapse at an Irish theme park thought at first that it was part of the "House of Horrors" show.
Eoin Power was at the bottom of the stairs in the Halloween house at Tayto Park, County Meath, on Saturday night when part of it broke and fell.
Nine people were taken to hospital, most suffering cuts and bruises.
It is understood one person fractured a bone; all those injured have now been discharged from hospital.
The Irish Health and Safety Executive has launched an investigation into the incident.
'Gave way beneath their feet'
Mr Power arrived at the "Haunted House" with friends at about 19:00 BST.
"We were queuing for 45 minutes as there were a good few hundred people who wanted to get into it," he told BBC NI's Good Morning Ulster.
"The four of us were standing at the bottom of the stairs and next thing, half of it collapsed. There were about 10 to 15 people on the staircase in front of us.
"The top fell and gave way beneath their feet.
This all happened within a few seconds, added Mr Power.
"All we heard was a big crash and bang," he said.
"We had thought it was just part of the scare factor because we were in the haunted house itself and we assumed it was part of the act.
"Everyone was quite rattled and jumped.
"Before you knew it, the staircase had gone. Quick as a flash, the panic set in. People were just in complete shock.
"Nobody knew if the rest of the stairs were going to fall."
Crying and screaming
Rian O'Kelly, 25, from Dublin, told the BBC's The Sunday News programme she was on an upper part of the staircase when the collapse happened.
She was attending the event with her 13-year-old sister and two of her sister's friends.
"We'd just stepped off the first flight of stairs on to a kind of landing. Basically we heard this big creaking noise and we thought it was part of the show, like it was trying to be scary.
"But, then, people behind us suddenly dropped and the whole staircase collapsed.
"Obviously we got really afraid and everyone started crying and screaming and running because we thought we were going to drop as well."
Ms O'Kelly said that if any of her group had been a step behind, "they would've gone down".
She added: "The only way we could go was up, so we all had to run up. It was very, very scary trying to think on my feet and get them out but I was also so frightened, my knees were totally shaking."
"Everyone just started running and going out. A lot of staff that were outside were not aware.
"It was a scary event so they were jumping out from behind bushes, they didn't know what had happened and were carrying on."
In a statement, Tayto Park said: "The Tayto Park emergency plan was immediately put in place and the emergency services attended the scene.
"Nine people were transported to hospitals in the city as a precautionary measure to assess their injuries.
"The management of Tayto Park will co-operate fully with the investigation as the safety of our guests is paramount."
The park opened as normal on Sunday.