European press sees no good Brexit option for Britain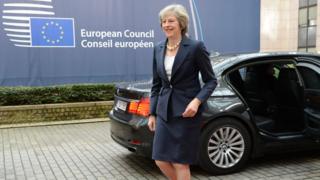 European newspapers are pessimistic about Britain's chances of a smooth departure from the European Union, especially after President of the European Council Donald Tusk's warning that freedom of movement is a precondition for full access to the single market.
'Two faces of Brexit'
Cecile Ducourtieux, the Brussels correspondent of France's Le Monde, says the EU is "waiting to get even with Mrs Brexit", as she calls British Prime Minister Theresa May.
"Most Europeans now seem to have jumped on the 'hard Brexit' bandwagon", this being the option where Britain leaves the EU without a deal on the single market. "The talks will be tough, as none of the sides is interested in making concession," she writes.
Financial analyst Dyrk Scherff of Germany's centre-right Frankfurter Allgemeine also sees a hard Brexit as "fatal for London banks... that depend on access to the single market".
Florentin Collomp, the London correspondent of France's conservative Le Figaro, thinks Mrs May's hard-Brexit rhetoric is strictly for domestic consumption.
But Spain's La Vanguardia, in its editorial "The two faces of Brexit", foresees objections from other EU-members to any deal that "limits the free movement or rights of Europeans while letting Britain benefit from other favourable conditions".
Bjoern Finke and Thomas Fromm, reporting from London for Germany's centre-left Sueddeutsche Zeitung also see Mrs May presenting "two different faces" to her home and EU audiences.
They add that her hard-Brexit speeches have also "angered British business leaders", who wonder whether she can "manage the balancing act" of a bespoke agreement that secures full access to EU markets.
'Brexit doorknob'
In Eastern Europe, Poland's Newsweek Polska weekly dismisses British hopes for a soft Brexit as "fantasies".
Like many European papers, it refers to Donald Tusk's stark warning that Britain will have a "hard Brexit, or no Brexit at all".
The leading Polish daily Rzeczpospolita complains of "London's lack of respect for its European partners", and warns Britain that a hard Brexit may leave it with the English language as its "sole selling point".
"That is certainly not enough to secure an important place on the economic map of the world," it concludes.
Greta Bogdan in Romania's Ziarul Financiar business paper fears Brexit may harm Romania's fragile economic recovery, while Hungary's Origo news site has no doubt that Britain and the EU are heading for an "ugly divorce". It thinks any benefits of restricting freedom of movement to EU workers in Britain are "insignificant compared to the huge losses that the repeal of EU free trade will entail".
The Polish TVP channel sums up Britain's immediate prospects in the pithy phrase "The Brexit doorknob has fallen off".
BBC Monitoring reports and analyses news from TV, radio, web and print media around the world. You can follow BBC Monitoring on Twitter and Facebook.