French Oscar-winning clown Pierre Etaix dies aged 87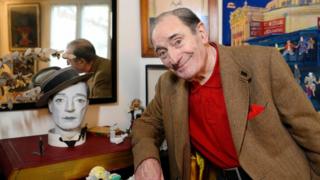 Oscar-wining French actor and director Pierre Etaix has died, aged 87.
He had been taken to the hospital in Paris with an intestinal infection on Friday morning, his wife said.
Etaix was best known for films such as Yoyo, and Happy Anniversary which won him an Oscar in 1962.
Influenced by his experiences as a circus acrobat and clown, he saw himself as part of a silent movie tradition that went back to Buster Keaton and Charlie Chaplin.