Brexit: Key quotes from non-UK figures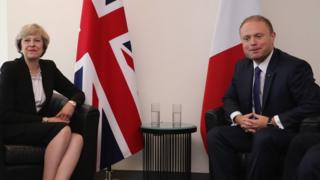 Key quotes from high-profile European and other figures on Britain's EU referendum between 27 September and 5 October, as compiled by BBC Monitoring.
President of the European Council Donald Tusk 
"PM May's declaration brings welcome clarity on start of Brexit talks. Once Article 50 is triggered, the 27 other member states of the EU will engage to safeguard their interests." (Twitter, 2 Oct)
President of the EU Commission Jean-Claude Juncker
"To move Europe forward after Brexit, we don't need poems, we don't need solemn declarations. We will need to adopt a programme which will allow us to make progress." (European Parliament address, 5 Oct)
EU chief negotiator on Brexit Michel Barnier, on negotiations
"This is a serious and complex mission, and I am approaching it in a serious and methodical way, without naivety, without assumptions, except for the united will of the 27 countries of the European Union that have chosen to continue the European project... These negotiations will be difficult, but I'm ready." (La Depeche du Midi interview, 4 Oct)
Guy Verhofstadt, Brexit representative of the European Parliament
"I welcome the announcement made by Theresa May. It is essential for the EU that Brexit is completed ahead of the European elections in 2019. Of course, it goes without saying that as someone who campaigned for Remain, I deeply regret the outcome of the referendum." (Facebook, 2 Oct)
Guy Verhofstadt, on Brexit ministers' statements
"So Boris Johnson wants to help Turkey join the EU, after he just campaigned for the UK to leave the EU on the basis that Turkey would be joining the EU in the near future. The UK defence minister today says the UK government will block EU efforts to enhance its security capabilities, even though the UK is leaving the EU, yet they say they want an enhanced security relationship with the EU after Brexit. Liam Fox, the UK trade minister, has indicated the UK will leave the EU's customs union, because he thinks other markets are more important, yet his prime minister tells us that the EU27 'will sign' an ambitious trade deal with the UK. Politics never fails to surprise me!" (Facebook, 27 Sept)
European Commission against Racism and Intolerance Chair Christian Ahlund 
"The Brexit referendum seems to have led to a further rise in 'anti-foreigner' sentiment. It is no coincidence that racist violence is on the rise in the UK at the same time as we see worrying examples of intolerance and hate speech in the newspapers, online and even among politicians." (Announcing report, 3 Oct)
German Chancellor Angela Merkel
"This [Brexit vote] is a warning shot to all of us to reconsider once again: What does Europe mean for us? What must Europe change to be successful in the eyes of the people?... We must not always talk about new treaties but about actions." (Speech to Christian Democrats in North Rhine-Westphalia, 30 Sep)
French Finance Minister Michel Sapin 
"Britain has given itself time to prepare for battle, but it would be best to not consider that there is a battle. A battle is not in Britain's interest... If there is a country that has something to lose from tough negotiations with dire consequences - what's called hard Brexit - it's Britain." (Reuters interview, 3 Oct)
Maltese Prime Minister Joseph Muscat 
"Malta's EU Presidency is geared to handle the Article 50 trigger by Theresa May. We will be honest brokers for a fair deal. The four freedoms [single market privileges and freedom of movement] cannot be decoupled." (Twitter, 2 Oct)
Italian PM Matteo Renzi 
"It will be impossible to give to British people more rights than other people outside the EU. The people of the UK decided the way for the future. Now the situation is that we can - and we have to - build the best alliance between the UK and the EU for the future because we will be best friends for the next years. And at the same time I think this decision could push European leaders to invest in a new way for Europe." (BBC interview, 29 Sep)
Polish Deputy Prime Minister Mateusz Morawiecki
"The decision of the British people is not good for us, because it is causing the EU to disintegrate... Trade agreements, investments agreements, or even an agreement on the free movement of people, and especially agreements on contributions to the EU budget should take into account the interests of both sides... London will have to compromise on budget issues or the remaining freedoms. I would not be worried if the British decided to slightly reduce new waves of migration. Over the past eight years, 2.5 million Poles have left the country, including 1 million who went to Britain, and this is very bad for Poland... This is weakening our developmental and demographic potential, exacerbating job market problems and the problems related to our pension system." (Rzeczpospolita interview, 28 Sept
Irish Foreign Minister Charlie Flanagan
"The reimposition of a heavily fortified or hard border would present a great challenge... This is a matter of great concern to everyone on this island. That scenario cannot be ruled out... This is the greatest foreign policy challenge that Ireland has had since we joined the EEC (European Economic Community) 43 years ago." (Dublin's Newstalk FM, 3 Oct)
BBC Monitoring reports and analyses news from TV, radio, web and print media around the world. You can follow BBC Monitoring on Twitter and Facebook.