Brexit: Key quotes from non-UK figures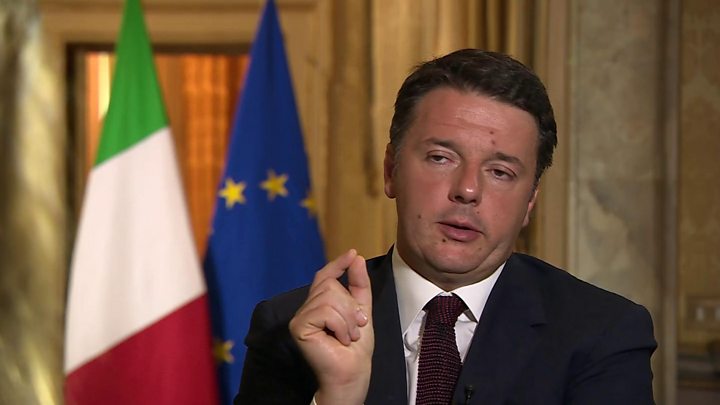 Key quotes from high-profile European and other figures on Britain's vote to leave the EU, as compiled by BBC Monitoring between 23-29 September.
Italian Prime Minister Matteo Renzi
"I think this is a very interesting debate, because this will be a debate about the concept of rules in the EU... But it will be impossible to give to British people more rights than other people outside the EU." (On suggestions of "flexibility" over EU rules on freedom of movement and access to the single market, interview with the BBC, 28 September)
"The people of the UK decided the way for the future. Now the situation is that we can - and we have to - build the best alliance between the UK and the EU for the future because we will be the best friends for the next years." (Interview with the BBC, 28 September)
European Parliament Brexit negotiator Guy Verhofstadt
"So Boris Johnson wants to help Turkey join the EU, after he just campaigned for the UK to leave the EU on the basis that Turkey would be joining the EU in the near future... Politics never fails to surprise me!" (On Boris Johnson's visit to Turkey, on Facebook, 27 September)
"Instead of making this a painful divorce that weakens Europe and Britain, let's try this time to put in place a system where everybody feels  - happy is maybe too much, but comfortable. (Interview with the Financial Times, 27 September)
Czech Prime Minister Bohuslav Sobotka
"The idea that perhaps Britain should be granted access to the European market and that on the other hand, workers from EU countries who are currently working in Britain would not be granted equal treatment, is for us pretty much unacceptable." (Speaking at a joint meeting of the Czech and Slovak cabinets in Bratislava, via Mlada fronta Dnes 26 September)
Slovak Prime Minister Robert Fico
"I cannot imagine that as a result of Britain's departure from the EU there would be created some kind of second category of people with different rights. We believe they should be given all the rights and entitlements that are rightfully theirs." (Speaking at a joint meeting of the Czech and Slovak cabinets in Bratislava, via Mlada fronta Dnes 26 September)
German Defence Minister Ursula von der Leyen
"[I expect Britain to] make good its promise that it will not hinder important European Union reforms.... I told [Michael Fallon] the initiative is designed for a strong Europe, and that this Europe also wants to have good relations with Britain in the future, especially in the area of defence." (On Defence Secretary Michael Fallon's remarks that the UK will oppose any attempts to create an EU army, interview with Reuters, 25 September)
German Finance Minister Wolfgang Schaeuble
"The EU internal market does have something to do with the four basic freedoms in Europe. If clarification is wanted, we will both pay a visit and help with our good English. If we can do anything beyond that, then we can happily send Her Majesty's foreign secretary a copy of the Lisbon Treaty." (On remarks by Boris Johnson that talk of an automatic trade-off between access to the single market and free movement is "complete baloney", at a joint news conference with French Finance Minister Michel Sapin, via Der Spiegel, 23 September)
BBC Monitoring reports and analyses news from TV, radio, web and print media around the world. You can follow BBC Monitoring on Twitter and Facebook.