Brexit: UK's EU army vow angers European press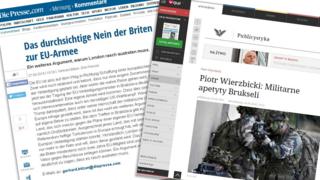 Britain's plan to block moves towards a common EU army prompts irritation from some European commentators.
"The very country that caused such strong turbulence in Europe with its referendum wants to stop any that could strengthen Europe's defence," Gerhard Bitzan exclaims in Austria's Die Presse.
"One more argument for telling London in the clearest manner possible that it has to leave quickly," he adds.
Writing in El Pais, Spanish former Nato Secretary-General Javier Solana avoids direct criticism of the British position, but praises as a "great success" the proposals for greater EU military unveiled at the Bratislava summit earlier this month.
"Even at a time when Euroscepticism abounds, citizens want to see a more decisive EU foreign and security policy," Mr Solana argues.
But Britain's view gets support from Poland, where commentator Piotr Wierzbicki is astonished that the EU is responding to the Brexit vote with another "giant step towards erasing the sovereignty of member states".
"The rump European military units will have zero deterrent value, will squander billions of dollars on bureaucracy and will give the Americans a pretext to pack their bags," he writes in Rzeczpospolita.
'Competitive advantage'
Moving on to the economy, the Italian daily Corriere della Sera's Danilo Taino cautions against EU financial centres' hope of using Brexit to snap up some of the City of London's business.
"Is it such a good idea to give up such a financial location?" he wonders, adding that London's unique international nature and capacity for innovation make it one of Europe's "few competitive advantages in global finance".
In the debate on the EU's future without Britain, economist Miquel Puig, in Spain's La Vanguardia, is optimistic, saying that the EU commission's recent ruling on Apple's Irish tax benefits points to a way for the bloc to show it can "address the real problems of people on the street", such as tax evasion by multinationals.
In Tageszeitung, German economist Henrik Enderlein makes a similar point, arguing that - although currently popular - a return to the "nation state just shifts the problems somewhere else, but does not solve them".
"In contrast," he argues, "the EU is so far the best link between a now borderless world and the demands of our European values, democracies and solidarity-based welfare states".
In Dutch paper Trouw, historian Rob de Wijk calls for the Europe to "pool its resources" without becoming the "super-state" feared by many.
Otherwise, he adds, individual countries risk falling "victim to the divide-and-rule policy of Russia and China".
De Volkskrant's Derk Jan Eppink agrees that the EU is "not lost", but warns that it needs a "new start" and must become "a lot more flexible".
But he adds that European leaders' current mood reminds him of the spirit of the end of the 19th century: "Life is good, but the end is near."
BBC Monitoring reports and analyses news from TV, radio, web and print media around the world. You can follow BBC Monitoring on Twitter and Facebook.