Tractor football and sheep spas at Irish ploughing championships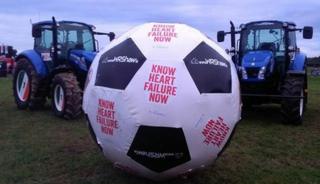 What do tractor football, a milking academy and a sheep spa have in common?
They were all part of the fun this week at one of Europe's largest agricultural events.
The 85th Irish National Ploughing Championships took place over three days in Tullamore, County Offaly.
And with a record attendance of 283,000 - including Olympic rowing silver medallist celebrities Gary and Paul Donovan - organisers declared the event the most successful ever.
Sheep pedicure?
Marie Byrne from Kilkenny was among the thousands of exhibitors showing off her rather unusual invention: a sheep spa.
The unique contraption allows sheep to have a bath and a pedicure (well, powder bath and a foot treatment for foot rot), get their minerals and have a good old scratch on the scratching post.
It wasn't all ploughing and sheep shearing at this year's event: the tractor football match was extremely popular with attendees.
And, as well as sheep-shearing and dancing, there was also a fashion show element to proceedings.
Wellies and tweed were the order of the day on the catwalk.