Wikileaks: Sweden appeals court upholds Assange arrest warrant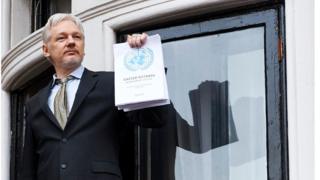 A Swedish appeals court has upheld the issuing of an arrest warrant for the Wikileaks founder, Julian Assange.
A long-running legal dispute over rape allegations will now continue.
Mr Assange took refuge in the Ecuadorian embassy in London in 2012, arguing the allegations against him were politically motivated.
He says Sweden will send him on to the US where is he is wanted in connection with a leak of secret US government documents published by Wikileaks.
The appeals court said that after reviewing material in the case, it had found no new information and therefore "no reason to set aside the detention order."
A statement by his legal team said Mr Assange was disappointed but would appeal.
"The United Nations has already determined that Mr Assange's six-year detention without charge is unlawful and that he must be released and compensated," the statement said. "Today's domestic decision shows that Sweden is not yet prepared to abide by its international obligations."
A UN working group said in February that his confinement amounted to "arbitrary detention" and argued that he should be allowed to go free.
On Thursday, WikiLeaks released a medical report and records arguing that Mr Assange's mental health was at risk if he remained in the embassy.
"It is urgent that his current circumstances are resolved as quickly as possible," said the report published on social media.
This is the eighth time Mr Assange has appealed against the arrest warrant by Sweden.