Irish famine: Refugee crisis similar to 19th famine 'rhetoric'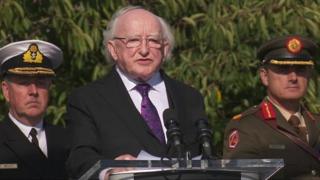 European nations failing to respond to their humanitarian obligations to refugees should learn from the Great Famine, the Irish President has said.
Michael D Higgins was speaking at the annual National Famine Commemoration.
More than 1m people died and more than 2m emigrated during the Irish famine between 1845-1849.
President Higgins claimed some rhetoric used about those crossing the Mediterranean was similar to some British media's during the famine.
He also unveiled a Celtic cross memorial to those who died in Ireland following the failure of the potato crop.
President Higgins told an audience at Dublin's Glasnevin Cemetery on Sunday that "we not be condemned to repeat the mistakes of the past".
Many who emigrated from Ireland in the 19th century faced fresh marginalisation on arrival on foreign shores.
President Higgins asked: "Is there not a lesson for all of us, as we are faced in our own time with the largest number of displaced people since World War II, as the Mediterranean becomes, for many, a marine grave, as European nations fail to respond to their humanitarian obligations?
"Isn't some of the rhetoric invoked today similar to what in the worst periods were the opinions of the London Times?
"We now have the capacity to anticipate the threat of famine.
"We have the capacity to take measures to avoid it; and yet we allow nearly a billion people across our world to live in conditions of extreme but avoidable hunger.
President Higgins said it was important, in the minds of those who sought to respond to the famine, to continue the project of moral reform even amidst the greatest loss of life.
"Avoiding the creation of dependency, as imperial elites saw it, was a target that could not be allowed to slip."