French policeman stabbed during gas canister car arrests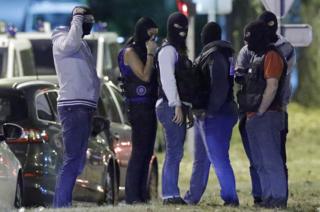 A French policeman has been stabbed during an operation to arrest three women over a suspect car containing gas canisters, which was found near Notre Dame Cathedral in Paris on Sunday.
Police shot and wounded one of the women during the operation in Boussy-Saint-Antoine, south-east of the city.
One of the three women, aged 19, reportedly swore allegiance to so-called Islamic State.
In November, 130 people died in Paris in attacks by the group.
A state of emergency has been in place in France since then.
French media report that a man was arrested on Friday - the boyfriend of a 39-year-old woman among the three arrested in Boussy-Saint-Antoine, which is 30km (19 miles) from Paris.
Her phone was being monitored because her boyfriend's brother was already in custody.
Speaking on Friday, President Francois Hollande urged vigilance: "An attack was derailed... a group has been disbanded, but there are others and we must be able to act each time before it is too late and that's what we're doing."
A Peugeot 607 containing gas canisters was found early on Sunday on the Quai de Montebello, just metres (yards) from the cathedral, which attracts millions of tourists every year.
The suspicious car had its hazard warning lights flashing and no number plates, police say.
One of the canisters, on the front passenger seat, was empty, and there were no detonators inside.
Documents with writing in Arabic were also found in the car, police say.
Suspects 'stressed'
Boussy-Saint-Antoine resident Joachim Fortes Sanchez, 21, said he had seen the three women - aged 39, 23 and 19 - before they were arrested during Thursday night's operation.
They "appeared stressed, they were looking all around", he told AFP news agency.
When they were arrested, "a young woman pulled out a knife and struck a policeman... It happened very quickly".
The French interior ministry tweeted that the police officer had been stabbed in the shoulder. It said his injuries were not life-threatening.
Police went on to search an apartment the three women had been seen leaving.
The 19-year-old woman, said to be a daughter of the car's owner, is the main suspect in the suspected plot.
'Race against time'
A source close to the investigation told RTL radio (in French) a letter had been found in which she pledged allegiance to IS.
The letter said the three women wanted to avenge the death of the group's chief strategist, Abu Muhammad al-Adnani, in Syria in August, the station reported.
The suspects "had been radicalised, were fanatics and were in all likelihood preparing an imminent, violent act", said Interior Minister Bernard Cazeneuve.
Investigators, he said, had been in a "race against time".
According to French media, the car owner was on an intelligence watch-list. He has already been questioned.
A man on the terrorism watch list was arrested on Wednesday as well as an associate of the car's owner.