Pokemon Go: Russian blogger appeals against arrest for playing in church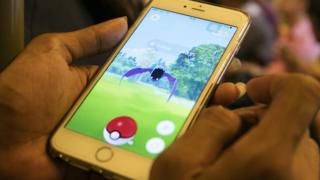 A Russian blogger arrested after posting a video of himself playing Pokemon Go in a church in the city of Yekaterinburg has filed an appeal, according to the local court.
Ruslan Sokolovsky is reportedly being held in prison while he awaits trial.
He has been charged with mockery of religious beliefs.
Investigators and church officials have said the arrest was because Mr Sokolovsky was filming, and not for catching Pokemon.
Mr Sokolovsky, 21, filmed himself playing the game last month in the local Orthodox church built in remembrance of Tsar Nicholas II and his family.
According to the Moscow Times Mr Sokolovsky responded to his detention by saying: "This is complete nonsense. Who could get offended if you're just walking around with your smart phone in a church?"
In July, Russian TV news warned gamers that playing Pokemon Go in churches face three years of jail time.
Support for the blogger
Nadya Tolokonnikova, singer in the Russian punk band, the Pussy Riot tweeted in support of Mr Sokolovsky.
In 2012 she and another member of the band were sent to prison for nearly two years for hooliganism and religious hatred after performing in a church.
Other twitter users also offered their backing: