O'Donovan brothers: Homecoming parade for Irish Olympic silver medallists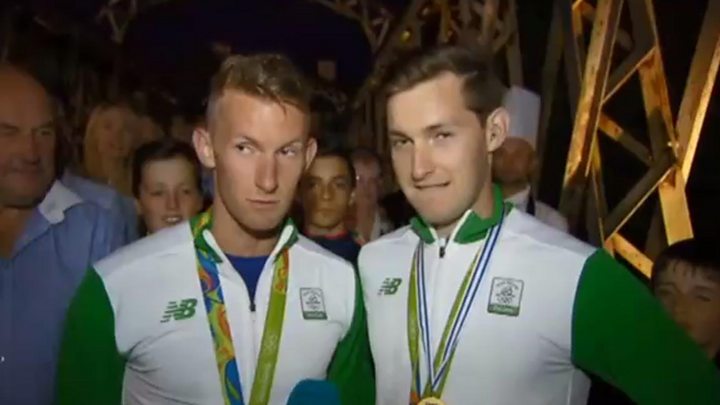 Thousands of people have attended a homecoming in Skibbereen, County Cork, for Irish Olympic silver medal winners Gary and Paul O'Donovan.
About 1,000 people also turned out to welcome the two rowers at Cork airport on Sunday night.
They were on a flight with 20 other members of the Irish rowing team who competed at the world championships in Rotterdam.
Paul O'Donovan claimed a gold medal at that event.
That was in the men's single lightweight sculls.
The O'Donovan brothers joined the plane's captain and co-pilot in the cockpit on Sunday night as the airport's fire and rescue service provided the plane with a water cannon salute.
The brothers' parents Teddy and Trish O'Donovan were also on board the plane.
Monday night's official homecoming for the O'Donovan brothers in Skibbereen included an open top bus parade through the town.