Irish naval ship LÉ James Joyce rescues 617 migrants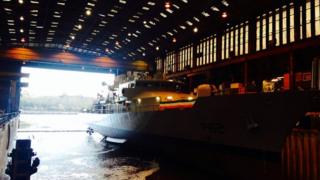 The Irish naval ship, the LÉ James Joyce, has rescued 617 migrants in the sea about 40 nautical miles off the coast of Libya.
The Irish Navy said 15 people were taken off a wooden vessel at about 06:40 on Monday.
About an hour later, another 150 people were rescued from two rubber crafts.
Later on Monday, it rescued a further 452 migrants from eight separate vessels