Sheep rescued after 200 ft cliff fall in County Donegal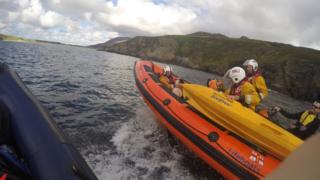 A sheep has been rescued from a cliff face in the Republic of Ireland after a 200 ft fall.
Some eagle eyed fishermen spotted the sheep in distress at Leenan Head in County Donegal on Sunday afternoon.
They contacted Malin Head Coast Guard who in turn alerted Lough Swilly RNLI.
The lifeboat crew, with the help of a local kayaker, safely caught the sheep and brought her back to more familiar surroundings on shore.
The alarm was raised at about 16:40 local time when the three fishermen spotted the animal stranded on a ledge with no means of escape.
'Shaking from her ordeal'
Lough Swilly RNLI Volunteer Joe Joyce said it was an unusual call-out, but one in which they were happy to help.
'We took the view that this would be a good training exercise, imagine if it wasn't a sheep but a person and how would we handle that?" he said.
"We think the young sheep had fallen about 200 ft and, with nowhere to go, she was shaking from her ordeal by the time we took her onboard the lifeboat.
"The RNLI is often called upon to rescue animals and we are always happy to assist not only to bring them to safety but also to ensure the safety of pet owners or farmers who may risk their own lives in attempting to bring their animal safely back to shore."
A kayaker who had also arrived on scene, first paddled in close to the cliff in an attempt to encourage the animal back up the hill.
The lifeboat crew and the kayaker then went into the water and made their way towards the sheep. They placed her in the kayak before transferring her into the lifeboat.