Islamic State group claims responsibility for Moscow police attack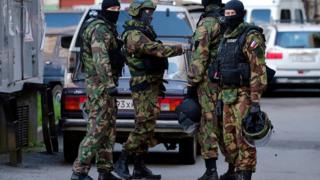 The so-called Islamic State group has said it was behind an attack carried out on traffic police outside Moscow on Wednesday.
Both attackers, reportedly from Central Asia, were shot dead after wounding two policemen.
The gunmen were wielding firearms and axes and attacked police in Balashikha, east of Moscow.
IS made the claim via Amaq, a news agency linked to the group.
Also on Wednesday Russian special forces killed four suspected militants in a shoot-out forces during a raid on an apartment block in St Petersburg.
Russia has long been battling extremism in the North Caucasus. Most Russians who have gone to fight for IS in Syria come from this area.
The insurgency in the Caucasus followed two bitter separatist conflicts in Russia's Chechnya republic and has occasionally spilled over into violence in other parts of Russia.