Search resumes for 13-year-old British boy missing in Channel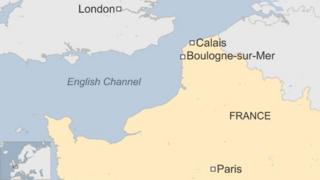 A search has resumed for a 13-year-old British boy who went missing in the sea off the northern coast of France.
It is believed the teenager had been with his two younger brothers when he got into difficulty in water off a beach in Boulogne-sur-Mer on Monday.
The search was launched at about 18:00 BST on Monday and continued late into the night.
The head of Boulogne lifeboat station said the boy had been in a channel not meant to used by swimmers.
"At this time of the year for somebody in tip-top condition the temperature of the water indicates a maximum survival time of about two to two and a half hours," Gerard Barron added.
The parents of the missing boy and the two others have been treated in hospital for shock, AFP news agency has reported.