Knifeman injures two on Austria train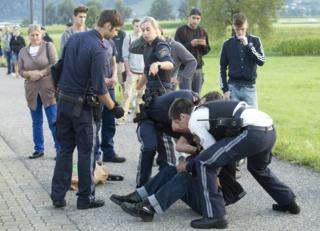 A 60-year-old man with a knife has seriously injured two teenagers on a moving train in western Austria.
The attack, which happened on Tuesday at 06:30 local time (04:30 GMT) near Sulz village, is the third stabbing on a European train in a month.
Austrian police say the man, a German national, appeared mentally disturbed.
He resisted arrest but officers used pepper spray and had the help of a 22-year-old bystander. Together they managed to arrest him.
The perpetrator lunged at a 19-year-old man on the seat opposite him, police said, before attacking a 17-year-old boy. It is not clear whether the victims were travelling together or whether they knew each other.
The 19 year-old has suffered wounds to the stomach and back. The 17 year-old's throat has been injured.
Austrian police said they were searching for a motive.
Similar recent attacks: