Brexit: Key quotes from non-UK figures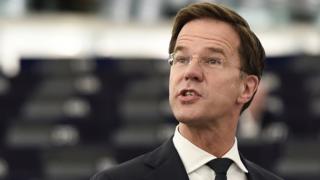 Key quotes from high-profile European and other figures on Britain's vote to leave the EU, as compiled by BBC Monitoring between 5 and 11 August.
Dutch Prime Minister Mark Rutte
"The best thing for everyone would be to start as soon as possible with this [invoking Article 50]. I understand that Theresa May is taking some time to prepare for the withdrawal negotiations. These are complex and irreversible.... I have assured May that [Dutch relations with the UK] have been good, are good and will remain good... The Brexit vote also impacts on future cooperation between the European countries on the continent. It is not just business as usual." (Commenting on telephone talks with Theresa May, Facebook, 8 August)
German Minister of State for Europe Michael Roth
"We had a very pleasant and constructive conversation between two dedicated pro-Europeans that once again showed that Europe's strength in part derives from its diversity. I hope that the United Kingdom finds a way forward that will benefit Europe as a whole in the end." (After meeting Scottish First Minister Nicola Sturgeon, via German Foreign Ministry, 9 August)
Finnish Finance Minister Petteri Orpo
"The risk I see is that we can't find solutions between Britain and the rest of the 27 EU countries and that the question will remain open. That will create uncertainty for the euro area for a long time and pose a bigger risk to the growth of the area and Finland." (Speaking to Bloomberg, 10 August)
Norwegian European Affairs Minister Elisabeth Vik Aspaker
"It's not certain that it would be a positive thing to let a big country into such an organisation. It would shift the balance, which is not necessarily in Norway's interests. Efta is a body which requires unanimity on such issues." (Commenting on Britain joining the European Free Trade Area, or Efta, in an interview with Aftenposten, 9 August)
French Government Spokesman and Agriculture Minister Stephane Le Foll
The first commitment that should guide us is the need to design a Europe that protects our freedoms and security. The Brexit supporters' victory is primarily the result of a fear of immigration from the rest of the world, but above all - and this is the most terrible part - the questioning of European workers' freedom of movement, one of the four freedoms that form the basis of the single market. This is not about Schengen, but is the simple result of a national decision to take in large numbers of workers from Eastern Europe - well in excess of European obligations - which was never politically accepted in Britain. (Article in Les Echos, 9 August)
BBC Monitoring reports and analyses news from TV, radio, web and print media around the world. You can follow BBC Monitoring on Twitter and Facebook.