La Palma wildfire: Park ranger dies fighting blaze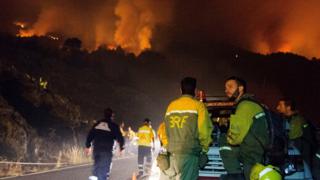 A man has died and 700 people have been evacuated after a wildfire broke out on the Spanish island of La Palma in the Canary Islands.
Francisco Jose Santana, a married father of five and park ranger, died while trying to extinguish the blaze.
Police have arrested a 27-year-old German man who admitted having started the fire accidentally.
Spanish media reports say the man had been burning used toilet paper.
About 200 firefighters and emergency service workers are trying to put out the fire, AP news agency reported regional government officials as saying.
The island's last major fire was in 2009, when 4,000 people had to be evacuated.