Brexit: Key quotes from non-UK figures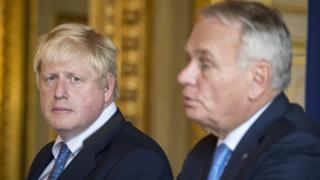 Key quotes from high-profile European and other figures on Britain's vote to leave the EU, as compiled by BBC Monitoring between 29 July and 1 August.
French Foreign Minister Jean-Marc Ayrault
"France respects the people's vote. It's now a question of acting accordingly and organising - in a coordinated, efficient, professional, sincere and fair manner - the UK's withdrawal from the European Union, while also allowing the EU to maintain its ideas and its operation. In the immediate future, we fully understand that the British government needs to define its negotiation position clearly." (News conference after meeting Boris Johnson in Paris, 28 July)
Polish Prime Minister Beata Szydlo
"Poland respects the sovereign decision of the British people. We shall not present any terms or conditions when it comes to the date of triggering Article 50 and initiating the formal procedure of exiting the EU, because we believe that this is the sovereign decision of the UK, and also the European Union needs time to prepare itself for this process." (News conference after meeting Theresa May in Warsaw, 28 July)
"It is also very important to draw conclusions from the British referendum, conclusions that should be drawn by the European Union because it's not that the British decision was without a reason. The European Union needs to take on board the issue of important reforms, necessary changes that need to be implemented for it to become a stronger institution, better governed, and an institution that first and foremost fulfils the expectations of the Europeans." (News conference after meeting Theresa May in Warsaw, 28 July)
President of the European Parliament Martin Schulz
"EU citizens living in Britain want to know what their status will be in the future, and the same applies to British citizens on the continent. Yet as long as everything is in limbo, because the British government is failing to implement the result of a vote it brought about itself, hundreds of thousands of people will live in great uncertainty. This is not a responsible attitude, which is why I call for no time to be lost unnecessarily. It is unacceptable for a whole continent to wait for the Conservatives in Britain to give up their party tactics." (Interview with the Bild newspaper, 25 July)
European Commission President Jean-Claude Juncker
"I would have preferred the UK presents us its letter of resignation, so to speak, as soon as possible, as I had thought that the British, especially those who wanted to leave the EU, would have prepared for this possibility." (Interview with France 2 television, via Reuters, 25 July)
Irish Taoiseach Enda Kenny
"We want the upcoming negotiation process to end with a prosperous and outward-looking United Kingdom which retains a close relationship with the EU." (News conference after talks with Theresa May in London, 26 July)
"We are in full agreement that we do not wish to see any return to the borders of the past on the island of Ireland." (News conference after talks with Theresa May in London, 26 July)
Jaroslaw Kaczynski, chairman of Poland's Law and Justice party
"Brexit was not a historical accident, after all. It taught us where the EU's real problems lie. And if we do not solve them, we will not prevent the anti-European currents in many EU countries, but rather encourage them." (Interview with Bild, 27 July)
BBC Monitoring reports and analyses news from TV, radio, web and print media around the world. You can follow BBC Monitoring on Twitter and Facebook.