IS in Libya: Italy offers US airspace and airbases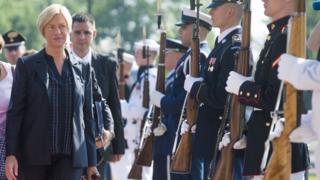 The Italian government says it will "positively consider" allowing US forces to launch attacks on the so-called Islamic State in Libya from Italy.
Defence Minister Roberta Pinotti said Italy would probably agree if the US asked to use its airspace or airbases.
The US bombed an IS stronghold in Libya on Monday after a request by the UN-backed government.
IS militants have a stronghold in the port city, Sirte.
Ms Pinotti said Wednesday: "The government is ready to consider positively a request to use airbases and national airspace, and support the operation, if it is believed that it would lead to a more rapid and effective conclusion of the ongoing action."
She noted: "The success of the fighting aimed at eliminating terroristic centres of ISIS in Libya is of fundamental importance for the security not just of that country, but also of Europe and Italy.''
On Tuesday Italy's foreign minister said stability in Libya would help stop migrant smugglers who have taken advantage of the unrest, trafficking hundreds of thousands of migrants in boats from Libya's shores toward Italy.
Italian Prime Minister Matteo Renzi has said he will only support anti-IS actions in Libya backed by the UN- backed government.