County Donegal: Funerals of three Drumkeen crash victims held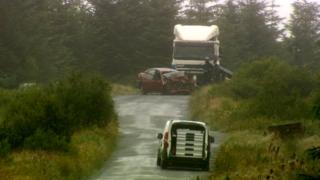 The funerals have taken place of three young people killed in a head-on crash in County Donegal on Thursday.
Kaylem Murphy, 19, was buried after requiem mass at the Church of our Lady of Perpetual Succour in Glenfin.
The funeral service for Teresa Marie Robinson, 20, took place at St Patrick's Church in Killygordon.
An hour later, Stephen McCafferty, who was also 19, was buried after a midday mass at St Eunan's Cathedral in Letterkenny.
A fourth man was seriously injured in the crash at Drumkeen, near Letterkenny, which happened on a rural road in the early hours of the morning.
Two cousins who were killed in a separate crash near Letterkenny - 29-year-old Barney McGinley, and 19-year-old Dermot Boyle - were buried on Saturday.