Dublin: Two men arrested over £370,000 ecstasy and cocaine haul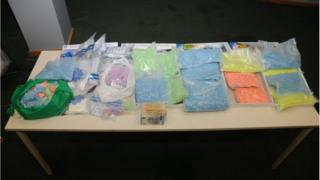 Irish police have arrested two men over the sale and supply of ecstasy tablets and cocaine in Dublin.
The men, in their 20s, were stopped at Aston Quay in the city on Friday, 29 July.
In a follow-up search at a D'Olier Street apartment, police found ecstasy tablets worth an estimated 418,000 euro (£353,176) and cocaine worth 24,000 euro (£20,278).
A quantity of cash was also seized.