Bank of Ireland reports reduced profits of first half of 2016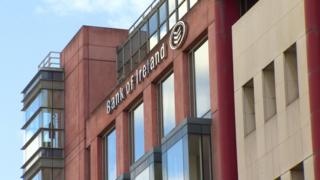 Bank of Ireland's pre-tax profits for the first half of this year have fallen by 23%, compared to the same period last year.
It made a pre-tax profit of 557m euros (£469m) between January and June, a significant reduction on the 725m euros (£610m) made in the first half of 2015.
But the 30% fall in its net profits was a smaller drop than analysts predicted, according to Irish broadcaster RTÉ.
The bank hailed its "solid" performance with all of its divisions "profitable".
However, it warned that the UK's decision to leave the European Union "may affect new business" and the timing of its "ambition to recommence dividends".
'Growing'
The Bank of Ireland group operates across the Republic of Ireland and the UK, and is one of Northern Ireland's 'big four' banks.
Earlier this month, it announced plans to close eight branches in Northern Ireland and make up to 54 staff redundant.
Publishing this year's interim results, the group's chief executive, Richie Boucher, said the bank "continued to perform in line with the strategic objectives we have set ourselves".
"All trading divisions are profitable and have contributed to our solid financial performance during the period.
"Our core loan books have been growing and we remain the largest lender to the Irish economy."
Devaluation
RTÉ has reported that Bank of Ireland was "particularly hard hit" by the UK's vote to leave the EU and the subsequent devaluation of sterling.
It said the bank has lost over 40% of its market value since the start of the year.
Mr Boucher said: "While it is too early to fully assess the impacts of the United Kingdom's EU referendum result on economic and customer activity, the strength of our business model gives us confidence in the group's prospects."
Meanwhile on Thursday, Allied Irish Banks (AIB) reported pre-tax profits of 1bn euros (£841m) for the first six months of 2016.
It is the parent company of another of Northern Ireland's 'big four' banks - First Trust.
AIB is still 99% owned by the Irish state, following a taxpayer-funded bailout during the Irish banking crisis.