Brexit: EU press questions Theresa May's talks approach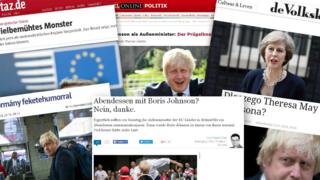 Europe's press over the past week home in on Theresa May's likely approach to Brexit negotiations, with many criticising what they see as signs of a tough stance emerging.
Ms May's first meeting with German Chancellor Angela Merkel on 20 July was seen as having gone smoothly enough, with Deutsche Welle describing it as a "successful start".
A report by German news magazine Der Spiegel thought that while "no female German-British entente cordiale" had been created, the encounter was "thoroughly pragmatic".
'Tough'
But earlier, Ms May's key cabinet EU-related appointments - David Davis as "Brexit secretary" and especially Boris Johnson at the Foreign Office - had earned her barbs from newspaper commentators.
In Poland's Rzecspospolita, Jedrzej Bielecki believes the selection of a "man who insulted half the world" as foreign secretary "bodes ill" for the Brexit talks.
The Hungarian daily Nepszava takes a wry view, suspecting "Britons' legendary black humour" was at play when Mrs May formed her cabinet; it adds that Mr Johnson's appointment will ensure EU foreign ministers "have fun" at meetings.
Spain's El Mundo accuses Ms May of having "provoked" Brussels by her choice of "recalcitrant" David Davis and "Europhobe and polemicist" Boris Johnson.
"May seems to be preparing for dialogue with Brussels in a tough frame of mind, in the belief that this will help obtain more benefits," it says in an editorial. "But in fact, the opposite will be the case."
'Whipping boy'
In the German paper Die Welt, a commentary by Politico Brussels editor Florian Eder agrees, saying that while "clever in terms of domestic politics", Mrs May's decision to put leading Brexiteers to the test will "make the conversation more difficult".
"She is following the tradition of David Cameron, who thought first of all of himself, then the party, and after that nothing."
But the news magazine Der Spiegel argues that while Mr Johnson's appointment may initially "sound gaga", it has effectively made him the government's "whipping boy".
"Now that the time of pain is beginning, May has dragged the culprit out of the bushes and put him back in the first rank," the paper believes.
In Dutch paper De Volkskrant, historian Dirk-Jan van Baar criticises Ms May for insisting that there is no way back from Brexit, even "through the back door", saying this has robbed her country of "room for negotiation" with Brussels.
But for Spain's La Vanguardia - spooked by Tuesday's IMF warning that Brexit will hit the world economy - urges both sides to avoid the "darker scenario" of prolonged negotiations and preserve as much of benefits as possible of trade links between Britain and the EU.
'Necessary shock'
Several commentators focus more on the wider meaning of Brexit for the European Union.
Political scientist Tomasz Grzegorz Grosse, in Poland's Rzecspospolita, takes a similar view. He argues that the EU must both close the democratic deficit as well as end austerity policies that have excluded parts of the population from the benefits of growth.
But Italian paper Corriere della Sera sees in the likely new EU power structures an opportunity for Italy and other countries favouring closer economic integration, such as Spain and France, in contrast to the "Anglo-Scandinavian" and "Germanic" blocs.
"We're hoping we can successfully exploit it, with a careful policy of alliances and good proposals," it adds.
Germany's Tageszeitung is gloomy about the prospects of the union as a whole, warning that hostile opinion of the EU appears to be becoming ingrained.
"The British experience shows that the gradual spread of negative images poisons the debate," it says. "The way back is uncertain."
BBC Monitoring reports and analyses news from TV, radio, web and print media around the world. You can follow BBC Monitoring on Twitter and Facebook.