Russia doping: Media see Putin behind sports scandal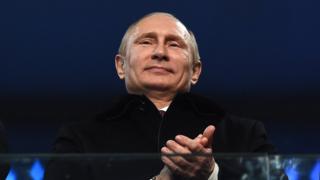 Media outlets outside of Russia say they have seen their suspicions confirmed after the World Anti-Doping Agency found evidence of a four-year, state-sponsored doping programme.
Many believe the origins of the programme lie in the Kremlin, and link it to what they see as President Vladimir Putin's drive to expand Russian soft power.
'Chutzpah'
German tabloid Bild does not need any further convincing, declaring that the Wada report shows "clearly" that Russia was engaged in "systematic doping".
A report in Sueddeutsche Zeitung agrees, describing the report's conclusions as "unsurprising" and the weight of the evidence "crushing".
"But what was remarkable was the criminal chutzpah of what the report describes as happening," it adds, and compares the report's presentation as a "lecture for crime drama writers".
In Switzerland, the La Tribune de Geneve daily praises Gregori Rodchenkov - the former head of the Moscow anti-doping laboratory who spoke out out about the allegations.
"For this act of bravery, the whistleblower (and hammer thrower!) certainly deserves the gold medal," the paper says.
'War by other means'
Several media outlets cast the stand-off as enmeshed in the wider hostility between Russia and the West.
France's La Depeche also sees the scandal as "the beginning of a possible cold war in sports".
A commentary in Die Welt says "there are no doubts the Kremlin is deeply implicated" in the doping programme.
The paper believes it also suits the logic of Russian President Vladimir Putin's "striving for power": "Doping serves as the continuation of war by other means."
In Ukraine, which has been locked in a conflict with Russian-backed rebels since its 2014 revolution, commentators view the alleged doping programme as a part of a bigger drive to expand Russian influence by the Kremlin.
"Oil and urine are Russia's two main allies," prominent columnist Vitaliy Portnikov writes on the website of Espreso TV - a reference to the alleged manipulation of Russian athletes' urine samples, and the key role of Russia's oil exports for its economy and state power.
"Putin has ordered the most shameful scandal in world sport history," the news website Censor.net says.
Olympic spirit
But Russian sport has its defenders, including in China, where state commentaries say calls for Russian athletes to be banned from the Rio games are "too extreme".
"If we were to punish all athletes because of a minority of violators and the Russian government, they will have wasted four years of preparation," says state paper Global Times in an editorial.
"Is this the spirit that the Olympic Games deserve?"
BBC Monitoring reports and analyses news from TV, radio, web and print media around the world. You can follow BBC Monitoring on Twitter and Facebook.