Germany baby deaths: Mother admits deaths of eight newborns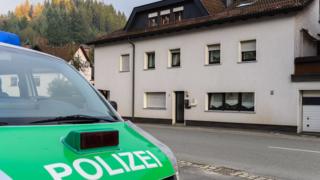 A woman aged 45 has admitted involvement in the deaths of eight newborn babies whose corpses were found in a house in the southern state of Bavaria last year.
Andrea G's lawyer told a court in Coburg that she had wrapped the babies up in towels and hidden them whether they showed signs of life or not.
The bodies were found in plastic bags in a house in the town of Wallenfels.
The woman's ex-husband, 55, has also gone on trial accused of complicity.
Andrea G is charged with the deaths of four of the eight children, due to the bad state of decomposition of some of the other bodies.
Prosecutors accuse the pair of "sexual selfishness, indifference and callousness" in their handling of successive pregnancies over a 10-year period from 2003.
The pair brought existing children to their relationship, and then went on to have three more - and wanted no further children.
But they continued to have sexual relations without contraception or sterilisation, say prosecutors.
In a statement to the trial on Tuesday, the woman's lawyer described how, before the first of the eight pregnancies, she and her then husband had quarrelled about an abortion, which never took place.
She probably gave birth in the kitchen, where the baby fell to the ground and was wrapped up in a towel, the lawyer said.
The charges relate only to four deaths, as the remains of the others were so badly decomposed that prosecutors were unable to determine whether they were born alive.
A key question at the trial, report German media, will be what psychological and social factors contributed to the mother's state of mind, and whether she can be held criminally responsible for her actions - and, if guilty, whether it should be of murder or a lesser charge of manslaughter.
The man is said to have been absent when the children died, but is believed to have known about the pregnancies and to have gone along with his wife's actions. He has been charged with complicity for failing to take any steps to prevent their deaths.
The couple lived with their other children in the property, but had recently separated and had left the house when the bodies were discovered last November.
At the time, the mayor of the small town of Wallenfels, Jens Korn, said residents were stunned.
A judgement is expected on 20 July, reports say.